This article  "4 Essential Tips for Updating Your Kitchen Countertops" from
https://www.realtor.com/advice/home-improvement/tips-for-updating-kitchen-countertops/
is deemed reliable not guaranteed.
4 Essential Tips for Updating Your Kitchen Countertops
Countertops can make or break a kitchen. Over time, any well-used work surface for meal prep, dining, and cleanup endures normal wear and tear. But if your countertops have seen better days and you're feeling stuck in a kitchen design rut, it might be time for an upgrade. "Countertops play an integral part in a kitchen's aesthetic and functionality," says 
Young Huh, a New York City–based interior designer.
"It's an update that instantly modernizes the look of the room and can truly change how you cook and enjoy the space." Think you're the only one mulling over a kitchen countertop revamp? Think again. In a recent 
kitchen trends survey
 by Houzz, countertops came in as 
the
 most popular feature renovating homeowners plan to upgrade. If you're ready to upgrade your kitchen countertops but have no idea where to start, the following must-know tips will point you in the right direction.
1. Prioritize zero-maintenance materials
For red wine and coffee lovers or home chefs who cook frequently with olive oil (which can wreak havoc on natural stone), experts suggest opting for engineered stone countertops that are resistant to damage and stains. "Zero-maintenance surfacing is a top client request for both kitchen and bath updates," says Huh. "They want a surface that captures the drama of natural stone without the constant sealing and upkeep." And amateur cooks aren't the only ones who see the value of engineered stone. Chef
 Thomas Keller
 selected Dekton for kitchen countertops when he renovated his flagship restaurant, t
he French Laundry
, in Yountville, CA. Culinary influencer and cookbook author 
Amanda Frederickson
 selected Silestone for her Nashville, TN, kitchen. "When we began planning the kitchen renovation, I initially considered marble because I love its texture and feel," says Frederickson. "But then I realized for someone who cooks as often as I do, it would have been a mistake. They would have gotten stained from accidentally dropping acidic food on them or chipped with all the pots and pans that go through my kitchen."
Kevin Busch, vice president of operations for Mr. Handyman, says g
ranite kitchen countertops are currently among the most popular. "These countertops can be customized to fit the unique look and feel of your kitchen," he says. Busch says they rank high in durability, last long, and maintain their original look. Costs typically range from $50 to $80 per square foot but can be more costly with more exotic slabs. For a marble look without the hassle, Huh recommends and also uses 
Et Calacatta Gold
 from Silestone or 
Dekton 
Aura 15
. Huh says both are durable, require no sealing, and have low or zero porosity. "You can truly live in the space without worry of stains from everyday use," says Huh.
2. Mix, match, and get moody
Homeowners nowadays aren't afraid to play with color and are even willing to take their countertops to a darker, more dramatic place. "While white may be a safe mainstay when it comes to kitchen design, many of my clients have been turning toward warmer, darker hues in their kitchen palettes," says 
Richard T. Anuszkiewicz
, an interior designer in Nashville, TN. "I love this pivot as it naturally brings a distinctive element to the space." Two of his favorite countertops are 
Dekton 
Kelya
 and 
Dekton 
Laurent
.
Busch says wood typically isn't the first material that comes to mind when thinking about kitchen countertops, but "a high-quality wood can create a stunning, vibrant, and long-lasting countertop."
Pricing can range widely, depending on wood type, but Busch says butcher block countertops tend to range from $30 to $85 per square foot for materials only.
3. Keep countertop trends in mind
Trends rise and fall so you never want to fill your kitchen with design choices that'll age poorly. But there are some current countertop trends that experts believe will stand the test of time. Huh loves the cohesive look of matching the countertop material with the backsplash. "It creates a very clean, European style that's emerging in the U.S. market," she says. If you have the space, go for a waterfall-edge island like the one in Frederickson's kitchen. "It's full of drama and instantly pulls your eye into the space," says Huh. Frederickson also used the quartz surfacing as a backsplash, and topped it with a shallow shelf to keep spices nearby while she cooks. Experts also advise homeowners to look at the thickness of the countertop they're buying and stick with slimmer formats. Typically, a thinner the countertop will be more affordable and easier to install.
4. Go eco-friendly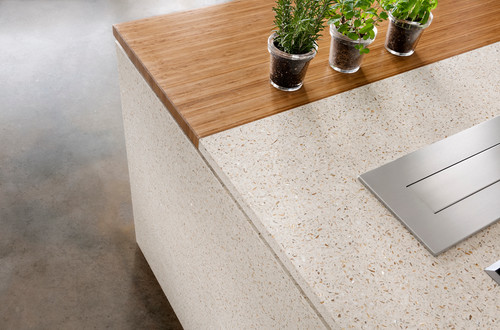 Photo by IceStone
"More and more of my clients are prioritizing eco-friendly materials with smaller carbon footprints," Huh says. For homeowners seeking such countertops, there are a variety of options out there.
Silestone, for example, offers an engineered quartz that is produced with 100% reusable energy.
Busch says countertops made of recycled glass and cement can be a great way to add a clean, industrial, durable surface to a kitchen. This type of countertop costs about $100 to $160 per square foot.
"Sturdy and visually appealing, this countertop material can be customized and is a top choice for those seeking a green alternative," says Busch.